Webinar – How to create a best-of-breed Technical Surveillance Counter Measures (TSCM) solution

To be broadcast on 18th Feb 2021
As adversaries become more sophisticated and adaptable in using the RF spectrum to carry out covert surveillance, signal detection capabilities need to be equally sophisticated. A single stand-alone solution that looks at part of the problem is never going to provide complete protection and security. This webinar looks at how to integrate a best-of-breed RF monitoring system and create an automated workflow of threat detection.


Date and times
The webinar will take place on: Thursday February 18th, 2021
09:00 AM - 10:00 AM GMT - (2:30pm New Delhi, 5:00pm Singapore) (Check your time zone)
04:00 PM - 05:00 PM GMT (8am Los Angeles, 11am New York) - (Check your time zone)


Speaker
Eric Famanas
Senior Application Engineer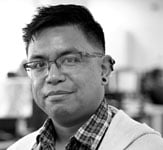 Eric is a Senior Application Engineer and Software Engineer at CRFS. He has served 12 years in the United States Navy as a Cryptologic Linguist, having deployed across numerous SIGINT, COMINT, and GEOINT activities in PACOM and CENTCOM on both shipborne and airborne platforms. He has a Bachelors in Software Engineering from Anglia Ruskin University, Cambridge, United Kingdom.